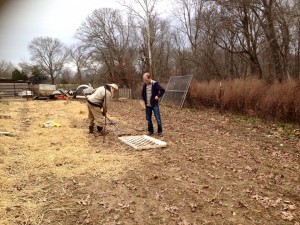 We're still getting settled in after the move and it seems there are still thousands of things to get caught up on, not to mention getting a head start on plans to start building our house on the farm in the spring!
I've gotten a few Facebook questions and emails about the best garlic to grow in Tennessee, so I thought I'd put up a quick post about that.
Keep in mind that we only have one season under our belt as far as actually growing garlic in TN, so much of this is theory and info I've collected from books and the Internet and not practical wisdom from years and years of hands-on experience.



Growing Garlic in Tennessee: The Basics
If you're looking to get started growing garlic in Tennessee or others areas with pretty warm summers, your best bet is likely to be pretty selective when first starting out.
In some years you'll have great conditions for nearly every type of garlic out there — especially during cold winters, cool springs, and mild summers — but a lot of garlics don't thrive when faced with the combo of mild winter/early spring/hot summer.
You won't have to worry about vernalization during winter as areas of the deep south do but the big culprit that hinders growing some garlic types like Rocamboles and Porcelains will be years where summer comes fast and hard.
Most garlic stop bulb growth when soil temperatures are consistently in the 80F to 90F range and that will be the real limiting factor. Hit that mark early in the season and you'll have undersized bulbs, whereas in milder years the same garlic might have a significant amount of extra time for bulbs to grow and develop.
What does that mean in practice? If you're growing garlic in Tennessee and concerned about yields, your best bet for a hardneck garlic will be the Creole garlics, which include Creole Red, Ajo Rojo, and Burgundy.
Creole garlics are well known for their ability to thrive in very warm climates and are the only hardneck variety to consistently perform well in Zone 7 and above in the U.S.
Several different types of softneck garlics do very well in warmer climates, so you'll have more variety there when growing garlic in Tennessee. Softneck garlics including Artichoke garlics and Silverskin garlics are successfully grown in the South and are good choices due to the fact that they also store very well.
If you want to expand the hardneck garlics that you grow, Asiatic garlics and Turbans should also perform well in Tennessee. They're also some of the first garlics to mature and be ready to harvest each season, so adding them to Creoles and softnecks will give you fresh garlic to harvest through much of the growing season.
Other garlic varieties such as Rocamboles, Porcelains, and Purple Stripes will be more marginal in Tennessee, doing well in years with cold winters and mild springs/summers but struggling in warmer years.
That's not to say that they won't grow, just that they will be undersized in tougher years. If you're growing just for personal use in the kitchen, bulb size and yield will be less of a concern, so you can definitely experiment more widely with different types.
Garlic is also very adaptable and it typically takes 2-3 growing seasons to see how a variety will fare in various local conditions, so don't necessarily abandon a certain variety just because it struggles in the first year or two of growing it.